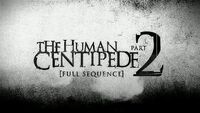 Film

Characters

Images
"100% medically inaccurate."
The Human Centipede 2 (Full Sequence) is a 2011 black-and-white body horror film written and directed by filmmaker Tom Six.
Plot
Directed by

Tom Six
Produced by
Tom Six
Ilona Six
Written by
Tom Six
Starring
Laurence R. Harvey

Ashlynn Yennie

Music by
James Edward Barker
Cinematography
David Meadows
Editing by
Nigel de Hond
Studio
Six Entertainment
Distributed by
Bounty Films (International)

IFC Midnight (United States)

Release date(s)
22 September 2011
Running time
91 minutes
Country
Netherlands
Language
English
Budget
Unknown
Box office
$141,877
Martin, a mentally disturbed loner that obsesses over the film The Human Centipede (First Sequence), kidnaps a group of people to create his own 'human centipede' to act out his perverse sexual fantasies.
Cast
Dominic Borelli, Vivien Bridson, Lee Harris, Peter Charlton, Bill Hutchens, Dan Burman, Daniel Jude Gennis, Kandace Caine, Maddi Black, Lucas Hansen, Georgia Goodrick, Peter Blankenstein, and Emma Lock portray Martin's victims.
Development
Writing
When developing the Human Centipede sequel, Tom Six had at least three ideas in mind - having a copycat killer create his own human centipede based on the first film, having Josef Heiter awaken from death after the events of First Sequence, or having Heiter's siamese twin (whom was separated from Josef at birth) become the antagonist. Ultimately, the decision was made to have the film centre on copycat killer Martin Lomax.[1][2]
Release
United States
In the United States, the film premiered at Fantastic Fest (Austin, Texas) in September 2011.[3] The film received a limited theatrical release in October 2011,[4] followed by a home video release of the uncut version in February 2012.[5]
Classification refusal and obscenity controversy
"In the UK, censors cut many minutes from The Human Centipede 2 by law. It feels like I made a comedy and they cut out all the good jokes. It's appalling. Nobody is forced to see a movie."
In June 2011, the British Board of Film Classification (BBFC) refused to classify The Human Centipede 2 (Full Sequence) for a direct-to-video release, effectively meaning that the film cannot legally be supplied in any format in the UK. The BBFC had given the preceding First Sequence title an 18 certificate. The board stated that they had considered First Sequence to be "undoubtedly tasteless and disgusting," but deemed it acceptable for release because the "centipede" was the product of a "revolting medical experiment." They had also taken legal advice that First Sequence was not in breach of the Obscene Publications Act.[6][7]
Director Tom Six responded to the BBFC's decision in a statement released the next day to Empire magazine. Six criticised the BBFC for including film spoilers in their report, and stated that the film was "...fictional. Not real. It is all make-belief. It is art..." and that viewers should be able to choose for themselves whether or not they decided to view the film. Six also referred to the BBFC's refusal to classify the film as "exceptional."[7] The film was eventually released in the United Kingdom on 4 November 2011, with two minutes and thirty seven seconds removed.[8]
The uncut version of the film originally passed in Australia with a R18+ rating,[9] but was called for reclassification after an outcry from religious groups, and was subsequently banned in Australia for its "gratuitous, exploitative or offensive depictions of violence."[10] An edited version of the film was released with thirty seconds removed, which was made available on home video as of 23 February 2016.[11][12]
The uncut version of Full Sequence was made available digitally in both Australia and the United Kingdom for the first time via Bountyfilms.com.[13]
In April 2016, Full Sequence was met with further outrage when it became known that an American school teacher had allowed her class of underage students to watch the film, despite its depiction of graphic violence. As a result, the teacher was suspended by the school's staff. A letter from the school's principal was later sent to the student's parents, stating that "I understand that on Wednesday, April 20, 2016, your student may have inadvertently viewed inappropriate content in a JCM classroom. This occurrence is inconsistent with our Mission and Vision at Jackson Central Merry. I have investigated the situation and talked to those involved. Immediate action has been taken to assure that there will be no further occurrences."[14][15] Writer/Director Tom Six made light of the situation, joking that "It should be mandatory to watch [Full Sequence] in school classes. It deals with a character that is bullied and what to do!"[16]
Colour version
In September 2014, Tom Six released a full colour still from Full Sequence for the first time.[17] In June 2015, Tom Six released a second full colour still from the film.[18] The following day, the horror news site Bloody Disgusting criticised Tom Six for releasing Full Sequence in black and white, believing that a colour version of the film could've been a cult classic.[19] In October 2015, a colour version of the film was finally made available as a bonus feature in a box set containing all three of the Human Centipede films.[20][21] In 2016, the coloured version of Full Sequence was included yet again as a bonus feature in the home video release of the compilation film The Human Centipede (Complete Sequence) - The Movie Centipede.[22][23] The coloured version will be released on DVD in the United Kingdom as a bonus disc to a Steelbook set featuring all three of the Human Centipede films on Blu-Ray. The set will be released by Zavvi on 26 December 2016.[24]
France
Full Sequence received a direct-to-video release in France on 9 May 2016.[The Human Centipede 2 a reçu une version Blu-Ray et DVD en France le 9 mai 2016.][25]
Reception
Critical
The Human Centipede 2 (Full Sequence) received mostly negative reviews from film critics. Review aggravator Rotten Tomatoes surveyed that 30% of the 77 critics listed gave the film a positive review.[26] Full Sequence received a Metacritic rating of 17, indicating overwhelming dislike based on 22 critics.[27]
Owen Gleiberman of Entertainment Weekly claimed that Full Sequence "Would have the Marquis de Sade gagging into his popcorn... could be the sickest B-Movie ever made."[28] Frank Scheck of The Hollywood Reporter said that the film is "Strictly for fans of the original, and you know who you are."[29] R.L. Shaffer of IGN gave the film a rating of 4/10, stating that "This second chapter takes all the mayhem, gore and general nastiness of the first film, and tosses it into a blender. The film is repulsive, repugnant, lifeless and even ugly to look at."[30]
Robert Koehler of Variety gave the film a negative review, calling it "More boring than stomach-churning."[31] In contrast, Kim Newman of Empire rated it 3/5 stars, opining that "It's a shame this has become known for censorship woes, which mean trims to its wilder atrocities, because Tom Six's follow-up is a stronger, stranger, more interesting picture than the first."[32] Roger Ebert accused Full Sequence of being "Reprehensible, dismaying, ugly, artless and an affront to any notion, however remote, of human decency."[33]
Peter Travers of Rolling Stone believes that "Masochists will give the movie a thumbs-up, as long as their thumb isn't already up their ass."[34] Keith Phipps of A.V. Club assessed that "Any sick wit gets drowned by Six's oppressive approach, which piles on one 'Can you take it?' gross-out moment atop another. Even those who can take it will be left wondering why."[35]
Sequel
Main article: The Human Centipede 3 (Final Sequence)
References