"100% Tom Six approved."
The Human Centipede (Complete Sequence) - The Movie Centipede is a 2016 film that connects all three films in the Human Centipede trilogy into a singular movie. The film is comprised of uncut versions of The Human Centipede (First Sequence), The Human Centipede 2 (Full Sequence) and The Human Centipede 3 (Final Sequence), with additional scenes inserted.
Plot
Directed by

Tom Six
Produced by
Ilona Six


Tom Six

Written by
Tom Six
Starring
Dieter Laser


Laurence R. Harvey
Ashlynn Yennie
Ashley C. Williams
Akihiro Kitamura
Emma Lock
Bill Hutchens
Dominic Borrelli
Vivien Bridson
Lee Nicholas Harris
Eric Roberts
Robert LaSardo
Bree Olson
Clayton Rohner
E.A.

Music by
Misha Segal


Patrick Savage & Holeg Spies
James Edward Barker

Cinematography
David Meadows


Goof de Koning

Editing by
Tom Six


Nigel de Hond

Studio
Six Entertainment
Distributed by
Blitzkrieg Distribution
Release date(s)
17 May 2016
Running time
275 minutes
Country
Netherlands
Language
English
German
Japanese
Budget
N/A
Box office
TBA
Development
"So [Full Sequence] was based on a guy watching the first Human Centipede, and then in the end, what I wanted to do was make a movie centipede. Each film can literally be connected and be digested by each film. So part two begins with the ending of part one, part three begins with the ending of part two, so you can literally connect the films."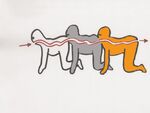 When Human Centipede creator Tom Six began working on the Human Centipede sequels, he envisioned a trilogy that acts as a "movie centipede." Each sequel opens with the ending of the previous film, which directly influences the events of said sequel. The Human Centipede (First Sequence) introduced the first segment of a centipede, made of three people, with each sequel containing a "Sequence" subtitle and a larger centipede than the previous film. Tom Six intended all three film to be connected into a single 4.5 hour film.[2][3]
According to Tom Six, Complete Sequence is the definitive version of the Human Centipede series, describing it as "The only true version [of the series] available, 100% Tom Six approved. This is the way I envisioned it. This movie is uncut and uncensored."[4]
Release
Tom Six stated in February 2016 that the film would soon be available for pre-order. The film was first released on home video in a limited "Tom Six Edition" Blu Ray steelbook, with cover artwork designed by Six himself.[5] On 8 April 2016, Tom Six stated that Complete Sequence would be released in two to three weeks.[6] The film was made available for purchase on 17 May 2016.[7][8]
Theatrical screenings
The Movie Centipede made its theatrical debut in an Amsterdam theatre on October 31 2017, featuring a question-and-answer session with writer/director Tom Six.[9]
Related
References